Home
»
Property Description
Property Description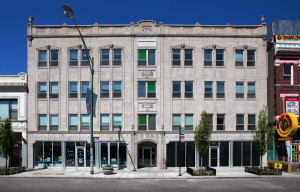 One of Chicago's newest and most exciting supportive housing communities, Fred and Pamela Buffett Place is an environmentally-friendly complete renovation of a vintage 1920s building in the Lakeview neighborhood of Chicago. Lakeview is one of the city's most popular communities because of its proximity to the Loop as well as its abundance of local businesses, restaurants and entertainment. Convenient transportation also adds to the appeal of the Lakeview neighborhood.
Amenities at Buffett Place include roof-top garden, beautifully landscaped courtyard, unique architectural details, resident amenities, and on-site supportive services making Buffett Place truly a place to call home. Supportive services are provided by Thresholds to interested residents. Services include medical, educational, job training and placement, and community outreach.
Award Winning
Buffett Place is the winner of several awards; the CNDA 2014 award for excellence in architecture, Richard H. Driehaus Foundation Award for Outstanding Non-Profit Neighborhood Real Estate Project and Multifamily Executive's 2014 Project of the Year Merit Award. The development also received an honorable mention for the 2014 Charles L. Edson Tax Credit Award for excellence in green housing.